Following the new restrictions of the Luxembourg government with regard to the evolution of the Coronavirus COVID-19,we are once more required to close our hotel-restaurant and wellness.
This means that our annual leave will unfortunately start now.
For any information or additional questions, you can contact us at any time:
+352 83 91 10 or on info@hotel-de-la-sure.lu
Take care of yourselfs,
Sylvia, Bianca, Ronald and all their team.

Food allergy?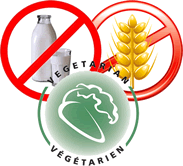 Food allergy? You follow a special diet?

For people who suffer from a food allergy (eg. Allergies to lactose or gluten), for people with diabetes, for those who need to eat without salt, for vegetarians etc ....
We offer dishes specially adapted so that you too can safely enjoy your vacation and the cuisine in our hotel!
TOP